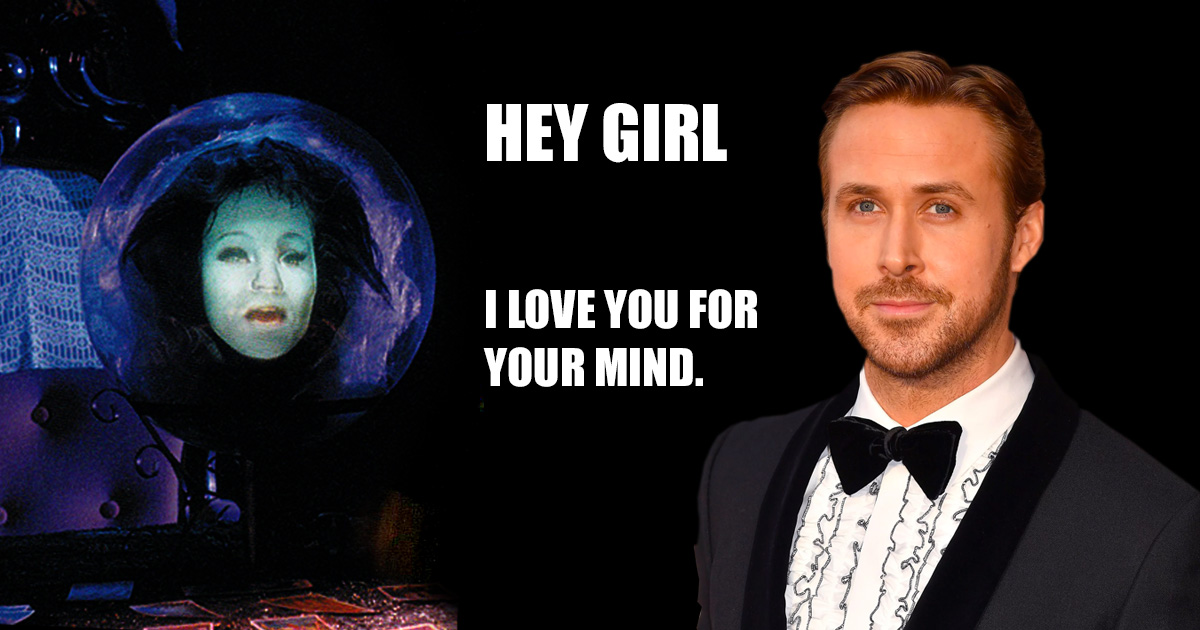 The night is dark and cold. The wind howls up the lonely road. The ponderous shadows are as dark as my thoughts as I contemplate the unsettling fact that A-List Hollywood Superstar Ryan Gosling wrote an entire album of weird spook music inspired by the Haunted Mansion.
How did we even get here?
This all started because my wife was streaming Halloween music in the car. This is something parents do for children. You can usually get through five songs before they start to repeat. Thriller, Ghostbusters, Purple People Eater, Monster Mash, and — inexplicably — Men in Black.
This time, however, we got something called My Body's a Zombie For You.
Not certain whether that title was the portent of some uncomfortable sexual metaphor or maybe just a typo, my finger hovered over the Skip button.
But I didn't press it.
When it started, the song didn't sound like a Satanic death metal riff. It didn't even sound like a Will Smith-era alien rap. It sounded like a 1950s doo-wop ballad. So weirdly innocent, and yet dark, and yet silly — and above all, imminently hummable. We kept listening.
Right about the time the children's choir started chanting "My body's a zombie for you!", I went googling for it and that's when I fell down the rabbit hole.
My Body's a Zombie For You is one of many supernatural themed songs on an album called Dead Man's Bones, by a band called Dead Man's Bones, which is presumably about a dead man's bones because the songs all have titles like Flowers Grow Out of My Grave and Werewolf Heart and My Body's a Zombie For You.
It's not out of the ordinary to come across some novelty indie label wading knee-deep into Goth territory. But it's more than a little strange to find out that one half of Dead Man's Bones is dreamy, brooding "Hey Girl" himself, Ryan Gosling.
Maybe I'm the last person on earth to hear about Dead Man's Bones. I consider myself reasonably informed on movie news, but I am not a Ryan Gosling fangirl. I saw La La Land because of the Oscar talk, but I've never seen The Notebook. When it came to box office predictions for Blade Runner 2049, I took the under. But I liked The Nice Guys and The Big Short. And his SNL skit about the Avatar font is one of the funniest things I've seen this year.
So sure, I like Ryan Gosling.
But when I hear he's involved in something like My Body's a Zombie For You, I do a double take. And then I find that the whole thing is inspired by the Haunted Mansion and I'm into full-on obsession.
Ryan Gosling started Dead Man's Bones with his friend Zach Shields. Only at first they weren't friends. They were forced to hang out with each other because Gosling was dating Rachel McAdams and Shields was dating Rachel McAdams's sister. Think about how weird that is — forced to hang out with a Hollywood power couple because you were dating her sister.
Somehow, through all this forced socializing, Gosling and Shields figured out that they had something in common: An obsession with a theme park attraction. Disney's classic, The Haunted Mansion.
When this happens to other people, they start off-beat Disney blogs. When it happens to Ryan Gosling, he basically puts his acting career on hold to devote himself full-time to writing boo-wop albums about ghosts and other spooky sounds.
The duo still needed someone to produce their album. They picked a DJ named Tim Anderson, whose main qualification seemed to be slipping a Haunted Mansion record into the rotation while spinning at a party.
What in the world is going on?
To understand Ryan Gosling's Haunted Mansion obsession, you have to go all the way back to the early 1990s, when young Ryan found himself starring in The New Mickey Mouse Club alongside other future stars like Justin Timberlake, Britney Spears, and Christina Aguilera. If you're a Disney World fan, you know they filmed the show at the Disney MGM Studios. Right where Toy Story Land is springing up today, little Ryan Gosling used to sing and dance and generally try to provide for his family with his sheer and prodigious talent.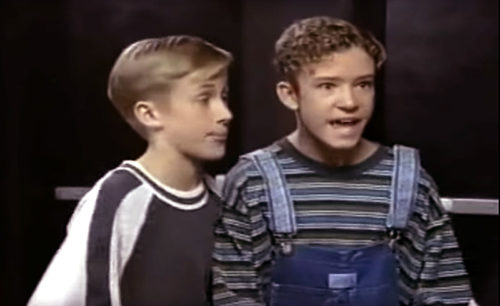 The Goslings didn't have much back then. Ryan lived with his mom in a trailer park. During his downtime from the show, he would head over to the Magic Kingdom and ride The Haunted Mansion over and over again. It fascinated him. The otherworldly magic and music seemed to foretell his future in storytelling. Is there any wonder that Guillermo del Toro wants Ryan Gosling for the Haunted Mansion movie reboot?
As Halloween approaches, you may find yourself wondering if the boundless realms of the supernatural might have any surprises for you. I'd say that crossing your geek-favorite Disney theme park ride with your schoolgirl Tiger Beat crush probably qualifies.
Happy haunting.