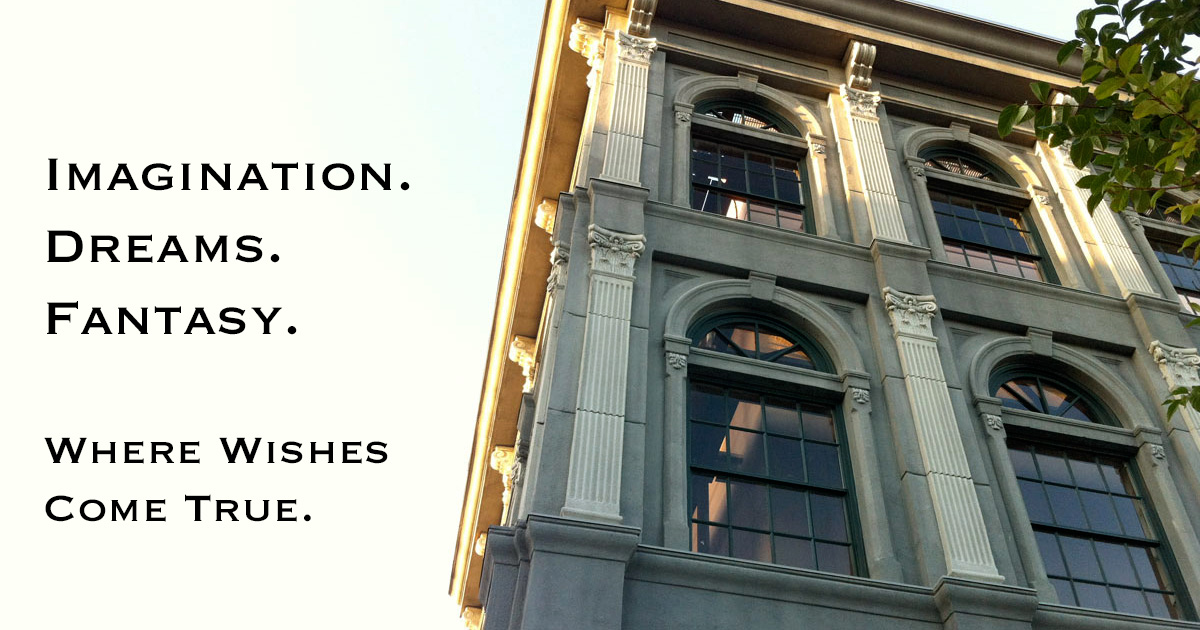 As a long-time park fan, it's always fun for me when first-timers get hit over the head with a classic bit of Disney magic. Some people truly have no idea just how great the parks are — until they round the corner and see a boring office facade.
My all-time favorite bit of boring office theming can be found at Disney's Hollywood Studios, in Pixar Place just beyond Toy Story Mania. I will park myself on a bench here and watch for hours as people stroll through this area, completely unaware that they are about to come face-to-face with a masterpiece.
Here is Disney magic at its most amazing. An entire corner of a building made to look like an ordinary downtown bank, or maybe a dazzling industrial park — completely artificial, yet nuanced in its artful treatment of the mundane, the studied plainness of its execution.
It's a nostalgic trip to the hometown of every-year, where the buildings have no distinguishable signs, where the paint is drab gray, where the windows appear to be slapped onto the side of a massive soundstage.
What inner child has not awakened to the sight of a glorious three-story office complex, glistening with plate glass and faux stone finishing? I know when I was a kid, I would spend months leading up to my trip plotting how I would visit all the themed insurance agents, mortgage brokers, and divorce attorneys who surely inhabited such a wonderland.
This building has a rich theme park history. Dedicated fans love to point out how Disney honors its legends of Disney Accounting and Finance after they retire, by promising to give them a "Window on That Boring Office Thing at Hollywood Studios."
As you can see, it is just a facade, very similar to the surfaces of Fantasyland, World Showcase, or Harambe. But it has a touch of solemn austerity that helps it to rise above all these things and–
I'm making myself sick.
What is this thing??? What is it doing at the end of Pixar Place?! Why am I suddenly punctuating like a 12-year-old?!?
I honestly have no clue where this boring office monstrosity came from. In case you don't have the Disney's Hollywood Studios map in your head, it's nowhere near New York Street, where it might make some semblance of sense. It's just a fake office building facade holding up a corner of the Great Movie Ride.
If you look through the glass, you can see the soundstage walls a couple feet behind it, with all the metal struts holding up the set — and also large mounds of dead leaves and debris that have somehow wormed their way inside.
Is it to help with the transition to the Backlot Tour, which has its own ugly facade a few dozen yards away? Maybe, but if so, it's the worst transition one could possibly dream up for a behind-the-scenes look at the movies.
I'm sure some Disney park historian out there knows what it's doing here. Perhaps it's a long-lost relic of Dick Tracy's Crimestoppers or something.
Feel free to weigh in and set me straight. Until then, I'm just going to enjoy the sight of all those toddlers gasping in amazement when they finally see daddy's boring office building recreated at Disney World.