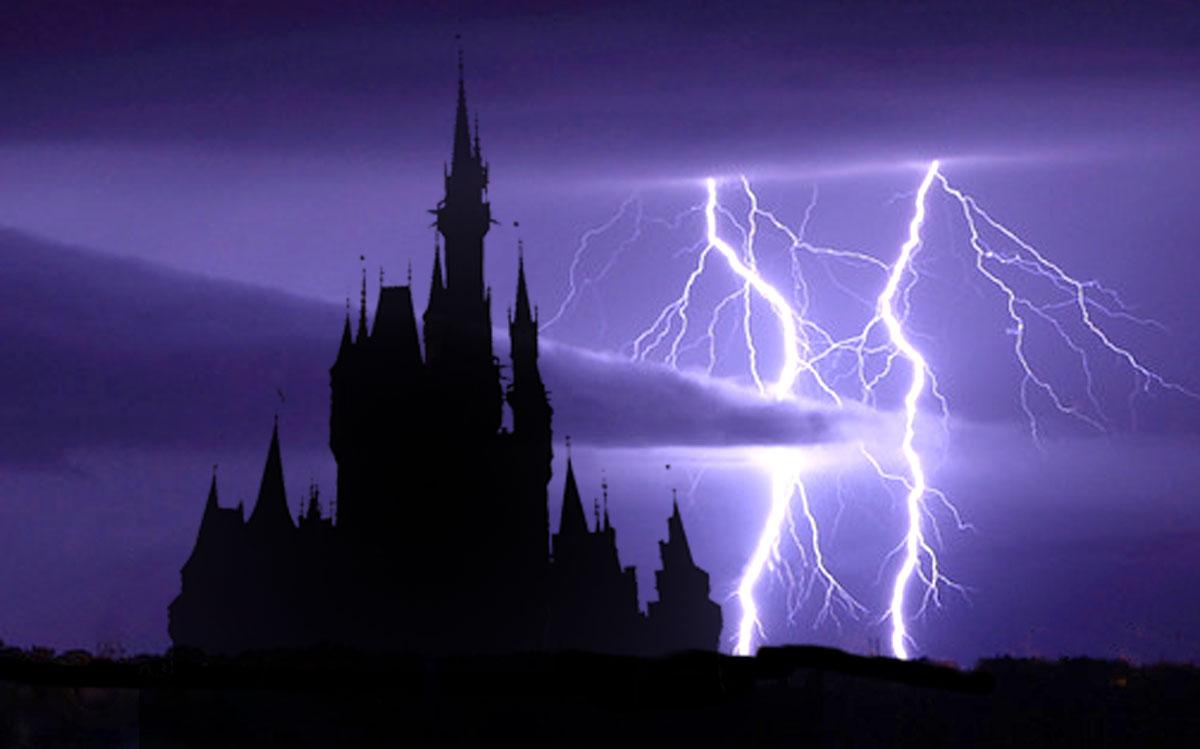 Lighting can strike twice: Parkeology is up to something…
Several weeks ago Disney announced that Maelstrom at the Norway Pavilion in Epcot was closing down to be replaced by a Frozen attraction. In fact much of the Norway pavilion will undergo changes as they add more Frozen merchandise locations and a meet and greet as well.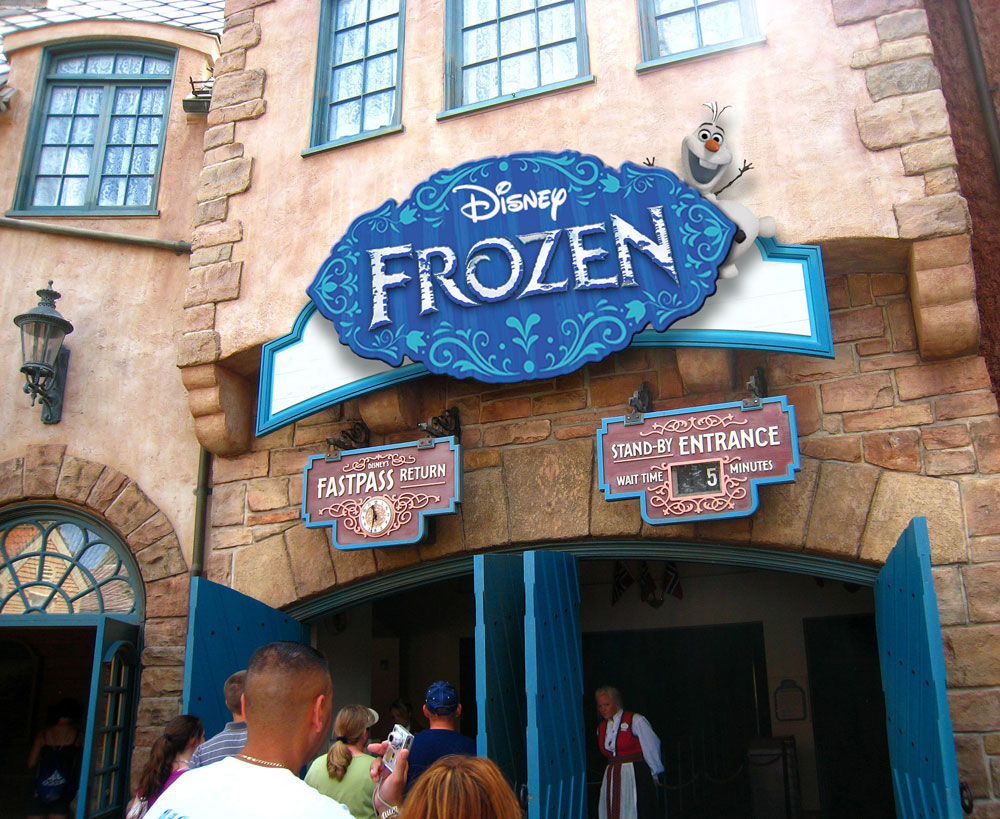 We did not have too much to say about it around Parkeology because frankly those actions speak for themselves. To be clear we think it is an idiotic idea that undermines everything World Showcase stands for, continues the "dumbing down" of all of Epcot and is yet another example of short-sided thinking on the part of Disney's parks division… and we think it will be a massive success that will have them laughing all the way to a very large bank. You see while the competition has to spend hundreds of millions of dollars to painstakingly create incredible realms of immersive fantasy while overcoming crazy logistical obstacles, all Disney has to do is stick two college girls in some costumes in order to create 5 hours wait times.
Disney has an unfair advantage; they have source material, name recognition, generations of trust and industry leadership that any other company on earth would kill for. But that advantage is too easy to rest on… it is tempting to look at the bottom line numbers and see that despite Universal's Potter additions Disney is enjoying record attendance and easily coasting past everything thrown at it… in fact when you factor in actual revenue spent (meaning not just bodies in the park but how they choose to spend their cash) Disney is so far ahead of anyone else that it is almost a bit sad. It would be like Apple worrying that the latest Casio calculator watch may steal some of the Apple Watch thunder. But guess what? When you rest on your laurels and get lazy that is when Casio comes up and surprises you… and then it may be too late.
A Frozen attraction is a great idea. The movie is more than just a huge hit, it is more than just the biggest animated movie of all time (think about that a minute) and one of the biggest movies overall ever. It is a legitimate cultural phenomenon that will go on for generations to come and is a touchstone of young girls across the world. It has the potential to be THE movie for a generation of kids (mostly girls), it may very well be their Star Wars… the movie that they recall seeing as a child that transformed how they saw movies from that point forward. No doubt about it, Frozen deserves it's own attraction, what it does not deserve is being shoe horned into a fairly small existing space in which it makes no sense to be and has all the ear marks of a rush job retrofit.
Lets get this out of the way… Frozen is not set in Norway. They can say all they want about the fictional local of Arendelle being "inspired" by Norway but the fact is that it is not Norway (and Shane and I know all about Norway!) So now sitting among the really for real locations all around World Showcase we have a purely fictional cartoon location. How is this different than our little April Fools joke a few years back when we broke the news that the many worlds of Star Wars were being placed around World Showcase? It is exactly the same and exactly as stupid (it sucks when your crazy jokes become reality). I guess it is not too much different than Donald Duck and company invading Mexico (another move I hate) but at least Mexico continues to be a real country that exists on this planet… unlike Arendelle.
Does anyone think that the ride will be reworked in any real way? My guess is that the ride system remains the same; they paint the boats "ice blue" add a bunch of mostly static figures and replace the troll with Olaf. Oh and lots and lots of "Let it Go". Your head will be ready to bust open it will be so full of "Let it Go" by the time you get out of there. You will leave through the new Frozen gift shop taking place of the current and much loved Exit Theater. Then you will have the chance to queue up for 3 hours to meet "Elsa and Anna" and if you are lucky maybe they will have a boutique to get your little girl made up to look like the queen as well. Screw Norway and its centuries of proud history… this will be a Norway pavilion in name alone; and it will crush all attendance records. The pavilion will instantly become the most popular in the park and Disney will tout how they are giving fans what they want because they are so in tune with the pulse of the fan nation… sigh.
I can't blame Disney on some level; Norway has been in need of refurbishment for many years and the actual country of Norway or its industrial leaders seem unwilling to pay. Here is an opportunity to spend very little and create a massive hit… one that surely will score very highly on every exit survey they take (lets face it, getting a 9 year old girl excited about Frozen is not all that difficult, and if the little princess is happy so too are the parents of said princess).
Vikings are fierce and all but they are about to get their asses handed to them by an army or pre-pubescent girls and there is not one damn thing anyone can do to stop it.
Just as the Disney fans were calming down after the Frozen freak out Disney came along last week and announced that the Backlot Tour at Disney Hollywood Studios was also closing… effective pretty much immediately and with no replacement yet announced. Unlike the Norway situation most fans (including us for the most part) welcome shutting down the Backlot Tour. Yes, this was an original attraction dating back to 1989 but really it's just a shadow of its former self. When it was new the tour was great fun. It featured not only the water tank and tram tour (then a bit longer than the most recent version and with the promise of more to come… that of course never did) but also special effects demonstrations and extensive walking tours through sound stages and post-production facilities. A bevy of late 80's celebrities guided us via video screens and the whole affair took several hours to complete. But over the years it was scaled back and simplified, parts were removed, the walking tour was deleted and in general it became just an excuse to bus people out to see Catastrophe Canyon (itself a blatant rip off of the superior Universal Earthquake attraction). The tour takes up a huge expanse of space and the possibilities of what may go there have fans very excited indeed.
So here we are, at a crossroads. Is Disney going to blow us away by doing something truly amazing with this land? Are they going to play it safe and do something pretty good or are they going to pull a Frozen on us and stick some cheapie nothing back there so that (on paper) they can point to the expanded attraction count and market the hell out of in essence nothing?
Lets look at the possibilities:
Dream scenario:
I think there is very little chance of this coming to fruition… but it's not impossible and it is fun to imagine what could be.
If you look at an areal view of the park you can see that about 30% – 40% of the park holds more or less nothing. Starting just past Star Tours you have Muppetvision 3-D, some shopping and dining locations, then the car stunt show "Lights, Motors. Action!" and then a bunch of now closed space that the Backlot Tour took up. Imagine if the closures were not done? Imagine if Disney announced that both Muppets and the car show were also going away. This would free up a huge expanse of space that would be absolutely perfect for the Star Wars land that we all know and hope is coming. It would give them the space to do something amazing. It would be an opportunity to show what they are capable of and with any luck they would nail it. Sure losing Muppets would be sad but it's old and in need of a refresh… maybe they could even movie it over to the Animation Building and re-theme that area a bit?
Star Tours would stay exactly where it is likely with a re-worked exterior (sorry At-At), it would serve as the entrance point to a massive world that could span multiple Star Wars locations and truly be a park within a park; beyond anything they have ever done before. Streets of America, Honey I shrunk the Kids playground, Catastrophe Canyon…. it all gets bulldozed. There is so much land there that they could fit half a dozen major rides. There is room for restaurants, shops, attractions, meet and greets and more… all perfectly situated off on it's own and with endless possibilities… eat me Potter!
More likely scenario:
Alas the dream scenario also would cost a billion or so… well worth it in my mind but since when has Disney been into spending that kind of money at Walt Disney World? Sure, new Fantasyland is nice and all but at the end of the day it is one dark ride a kiddy coaster and some meet and greets… it is not the scale of what Star Wars begs to be. So what else might be going into that now suddenly available space?
Probably an expansion of Pixar Place… this may not be all bad. For a couple of years there have been rumors of a version of Carsland coming to Florida and clearly there is space to do that now. Muppets would stay, car show would stay (and I guess possibly, just maybe, could even be re-designed into a "Cars" theme. The park would get the major ride from the Carsland expansion at DCA (Radiator Racers) and it would be a big hit. I'd much prefer keeping that unique to California but it certainly would do well in Florida and we know how Disney likes amortizing it's development costs over multiple parks… and here they certainly could do just that. We also know how they like jamming the animated films everywhere they possibly can (cough… Frozen… cough) and there you go. A nice major addition that few could complain about even if it is not the absolute greatest thing they could do.
Another option would be a similar major expansion with Pixar but with an all-new ride, perhaps the Monsters Inc. coaster we have heard a lot about over the past few years. Either way the location of the Backlot Tour lines up perfectly with Pixar Place and would make for an easy expansion while losing very little and gaining a lot. Of course this makes less room for the eventual Star Wars addition (unless they are thinking much larger… like expanding outside of the current park boundaries or- gasp – it's own park altogether).
Most likely scenario (and please let this not happen… PLEASE):
Years ago I would have bet Disney would aim high and go for one of the previous options… but Disney of today especially in Florida seem to have very different priorities… and spending a lot of money is certainly NOT one of them. So this leads to what is actually the most likely scenario and the absolute worst one I can think of: Adding a cheapo Pixar expansion; a clone of those in Paris and Hong Kong. Listen, I have been to both of those parks and I can tell you unequivocally that the Pixar Place kiddy areas are amongst the worst things Disney has ever done. They are going back to the original execution of Disney's California Adventure by taking off-the-shelf amusement park rides, painting them Disney colors and slapping a cute name on them. They have no business being in Disney parks and exist solely to add capacity and to give the marketing guys some quick ammunition. It is easy to pass them off as something new and special but they are not special… they are as far from special as you can get. But I know that the similar Bugsland stuff in DCA does reasonably well for them and the Pixar stuff in both Hong Kong and Paris have served an effective purpose. By far the easiest, cheapest and worst option would be duplicating it at Disney's Hollywood Studios.
This puts us in a bad position. It would be very hard to maintain any amount of enthusiasm for the park if this is what they decide to do. Perhaps this in addition to one of the other expansions would be OK but this alone amounts to more or less a slap in the face. It would be clearly announcing that they no longer care about the fans or even future fans… that they are going for the simplest and easiest way to market without any real desire to deliver unique or deep or creative experiences for guests. They might as well light a match to the park.
Who knows what will actually happen? I guess they will announce something soon and all we can hope is that they choose wisely. I think the D-23 Expo next summer will bring big Star Wars park news… whether the Backlot Tour closure is connected to that or not we will have to wait and see. Maybe they will announce a modest Pixar Place expansion now only to surprise us with a larger Star Wars expansion later?
What we know is that change is afoot and they have the opportunity to do something great here… or to do something that disappoints many for an easy short-term gain.
Is this going to be more of the same or mark the turning point when they get serious about the new properties they have and how to incorporate them into the parks?
Will they squander the one property they have that has the potential to redefine what a theme park experience can be or will they blow us all away and re-establish their position as the leaders and innovators of the industry?
Keep your fingers crossed… and May the Force be with them.
This is it… after touring through nine of the biggest blunders in Disney theme park history we have finally arrived at the top of our list of the Top Ten Disney Theme Park Controversies. If you have not read them all click HERE to get caught up…
Keep a weather eye open, mates, and hold on tight if you please… there be squalls ahead and Davey Jones waiting for them what don't obey…
1) PC Pirates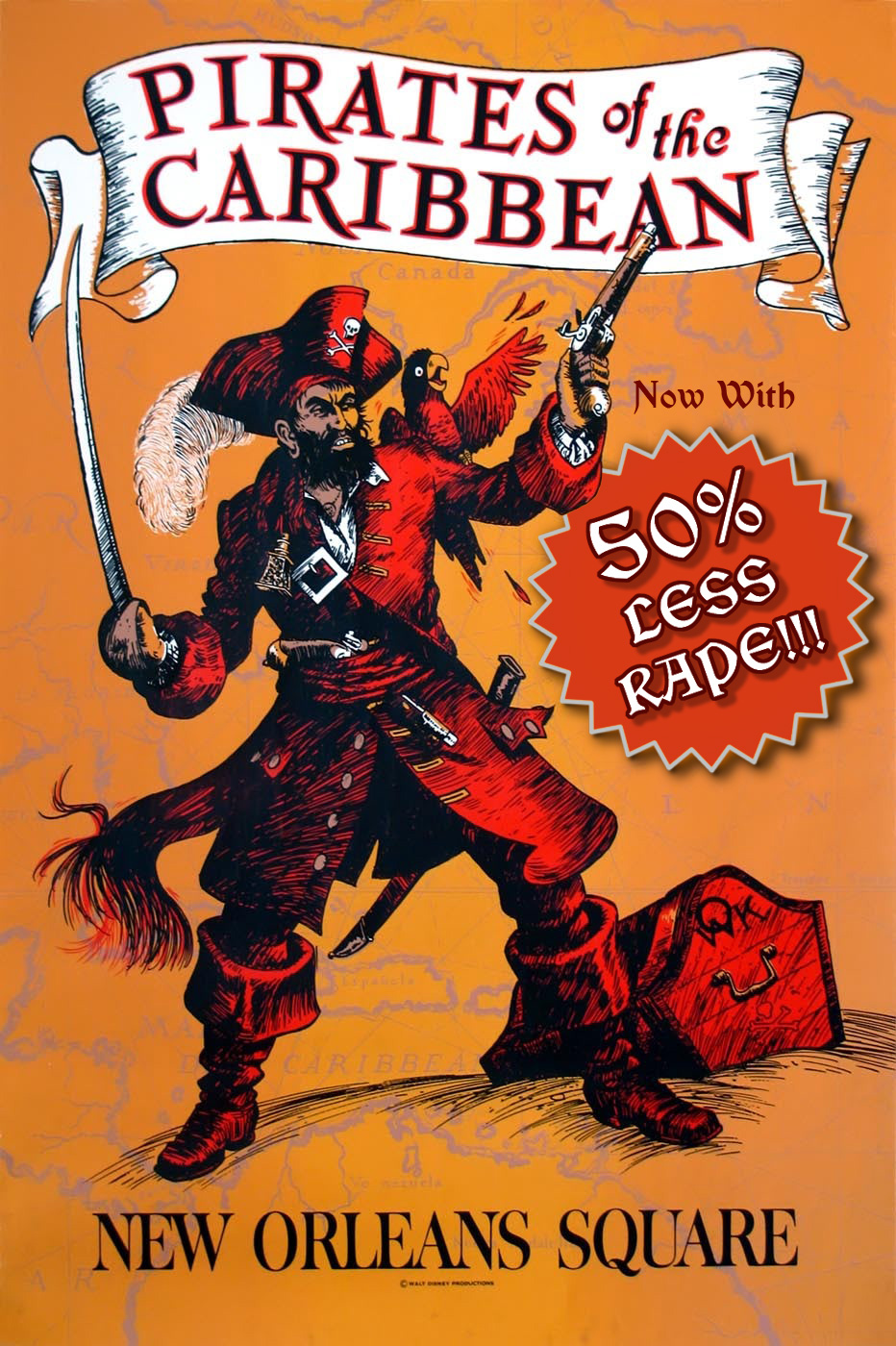 Yo,ho, yo ho, a pirate's life for me.
 We torture we rape and we don't fear the brig.
Drink up me 'earties, yo ho.
We treat women like slaves we're misogynist pigs.
Drink up me 'earties yo ho!
 Yo,ho, yo ho, a pirate's life for me.
 We slit your throat and then we sing with glee.
Drink up me 'earties yo ho.
We're murdering terrorists and proud to be.
Drink up me 'earties yo ho.
 Yo, ho, yo ho, a pirate's life for me.
 We disembowel and we eviscerate.
Drink up me 'eraties yo ho.
We like your women but not to date.
Drink up me 'earties you ho.
We're diseased and dirty, we're oversexed studs.
Drink up me 'earties you ho.
We wallow in feces and have a taste for blood.
Drink up me 'earties you ho.
We're wretched and drunk and may cut off your head.
Drink up me 'earties you ho.
Aye, but we'll also take your sisters to bed.
Drink up me 'earties you ho.
 Yo, ho, yo ho, a pirate's life for me.
Um wait a second… what exactly are we talking about here?
Pirates of the Caribbean has never been politically correct. It is impossible to imagine much of the atttractcion passing through Disney's corporate filters today.
Earlier on the list we took a look Mr. Toad's Wild Ride. It carries guests on an intoxicated romp through city streets and includes multiple attempts at vehicular homicide and a trip to hell. As very "un-Disney" as that attraction may seem it has nothing on Pirates of the Caribbean, a ride that celebrates looting, rape, torture, sexual slavery, arson and more.
Yet Pirates of the Caribbean is widely considered to be Disney's top ride and in fact the greatest theme park attraction ever created. You would be hard pressed to find any ride designer, theme park fan or Disney freak who would not put Pirates at the very top of their "best of" list.
Think about it. Pirates of the Caribbean is nearly 50 years old and is still one of the top draws at every park is appears in. It created an entire genre of rides and was chiefly responsible for defining what we know as a "Disney style" attraction. It was created by legendary Imagineers and has even spawned a hugely successful series of films.
Pirates of the Caribbean opened in 1967 at Disneyland and immediately redefined what a theme park attraction could be. Moreover Pirates was the last attraction that Walt Disney personally supervised to the point of final design (though he did not live to actually see its completion). It is impossible to over-state the importance of this attraction regarding the history of the Walt Disney Company, modern theme park attractions or even themed experiences in general. Without Pirates there would be no Haunted Mansion. Without Pirates there would be no EPCOT Center. Without Pirates of the Caribbean there would be no Wizarding World of Harry Potter. Simply put: Walt Disney's Pirates of the Caribbean is the absolute pinnacle of theme park design and the most significant attraction in Disney's or any other theme park company's history.
The attraction boasts lavish sets, memorable songs and amazing artistry, but also a rabid legion of fans that span multiple generations and cross all cultural lines. For a group of "really bad eggs" people flat out love these pirates.
With this in mind it can come as no surprise that fans were outraged and livid in 1997 when the Walt Disney Company announced imminent changes coming to the beloved attraction. What may have seemed amusingly naughty in the mid-sixties was feeling a bit more ominous 30 years later. The original incarnation of the ride clearly depicted swashbucklers chasing down women with a sexual intent. Pirates could be heard offering to share the "wenches" with guests and uttered other lewd and suggestive dialogue.
Upon examination the attraction is one illegal, illicit or morally reprehensible scene after another from start to finish. The town magistrate is tortured, the women of the town are rounded up and sold at auction and eventually the entire town is burned to the ground… Pirates were not nice guys.
Though the ride depicted many wretched things it did so with a tongue-in-cheek approach than softened the hard edges and created an overall tone that was lighthearted and campy. Regardless, in the mid nineties there was a growing swell of complaints that the acts portrayed on the attraction were not appropriate for a family fun park. It could be argued that Disney was actually presenting a fair and accurate representation of Pirates rendered in a more palatable manner (ironically Disney is often accused of white-washing the realities of history). One could also be reminded that Pirates were outlaws and criminals and any attraction themed around them would need to include the acts that they were known for. Nonetheless park management decided it was time for a change.
Originally the pirates pursued attractive woman as they scurried away in a famous series of chase scenes. One heavy-set woman turned the tables and lustfully ran after a scrawny pirate. This scene, with an apparently sexually starved woman, was also seen as offensive; critics asked why it was only the heaviest woman who not only welcomed the Pirate's amorous attentions but actively sought it out as well? And why was it that the only woman the pirates were not interested in happened to be the overweight one? Beyond concerns of weight discrimination critics lashed out about the general premise and the overtly sexual and abusive themes.
The first changes gave the heavyset woman a rolling pin to brandish. She was no longer lustfully chasing down an unwilling pirate lover but now fending him off and protecting herself.
More changes came later in a rather ham-fisted attempt to remove the sexual overtones from the chase scenes. A 1997 overhaul (to the original Disneyland version) added food and drinks to the hands of the fleeing damsels in distress. Disney aimed to tell guests that the pirates were now hungry, not horny. The scoundrels were not chasing the women themselves but rather the delicious delights in their possession. Not content to leave the largest women alone they oddly upped the weight insensitive suggestions by having her now chase down a pirate who was carrying a hunk of ham. No longer was she trying to bed a bandit or even trying to chase him away, rather she was so ravished with her endless need to gorge herself that she just had to get her hands on that ham at all costs. The rest of the more slender women trotted along protecting dinner from the grubby hands of the invading riff-raff.
A short bit later another scene originally depicted a drunken buccaneer known as the "Pooped Pirate"; exhausted from his encounter with an unwilling victim he rested against a wood barrel. Guests would hear his frustrated commentary as he held a piece of her undergarments and asked for our help in finding her. The terrified woman would occasionally reveal herself. Trembling with fear she hid in a barrel near the would-be rapist. This scene was altered so that the Pooped Pirate (now surrounded by a bounty of food) complains about hunger and how he is in search of a fine pork loin (you really can't make this stuff up). For some unexplained reason a scared cat of all things replaced the poor woman in the barrel.
Similar changes were previously made at the Walt Disney World version of the ride. There the female victims carried treasure in lieu of food and while the terrified woman remained in the barrel she held a treasure map suggesting the pooped pirate was in search of gold and not a different kind of booty.
Other clearly controversial and misogynistic scenes remained largely untouched, most notably the auction scene depicting enslaved woman as they are sold to the highest bidder for the apparent pleasure of the drunken sailors nearby. The pirates are most enchanted with the busty redhead while a less conventionally attractive woman cowers with embarrassment (and perhaps concern that she will be chosen at all); another sobs with fear.
Disney may have been taken aback by the very vocal complaints these changes garnished. It was not only the fans but also even some of the original designers (mostly old men by this time) who complained. Xavier "X" Atencio, the show's writer and composer of its catchy song feared that the changes turned the pirates into "The Boy Scouts of the Caribbean". The mainstream press picked up on the changes too and soon newscasts were filled with stories about Disney "caving" to pressure while others criticized the changes as either not going far enough or that no changes should have been made at all (Disney could not win for trying). It was unprecedented to have such a widespread outpouring of concern and anger (on both sides of the controversy) over alterations to a theme park attraction. Late night talk show hosts made jokes, radio shows discussed the various implications and Disney was caught in a media storm it surely did not expect.
Perhaps Disney should have simply left the attraction alone. As George Lucas also discovered around this same time; when a classic is altered, regardless of the intent behind it, those who grew up with said classic and those who have true love and admiration for it will never accept the changes. It is as if a piece of their childhood has been ripped away from them and tossed to the side. People fear that it is a slippery-slope leading to a bland homogenization of everything they once loved. Disney was placed in a very difficult situation; the critic's points could not be denied but the fans love of the attraction knew no bounds. It is very unlikely that proponents enjoyed the ride because it suggested misogamy and in fact most who rode probably never really understood it that way to begin with, to them it was a silly spoof.
To be fair other more positive alterations were made to the Disneyland attraction at this same time. The recently closed World of Motion ride at Epcot made many audio animatronics figures available to be re-used. Marc Davis, the same Imagineer who designed the pirates and in the same exaggerated cartoon fashion, designed these figures. In fact many of the World of Motion figures were sculpts originally created for Pirates of the Caribbean. Disney's designers tried to incorporate these animatronics into the attraction in order to better flesh out the story and enhance several scenes.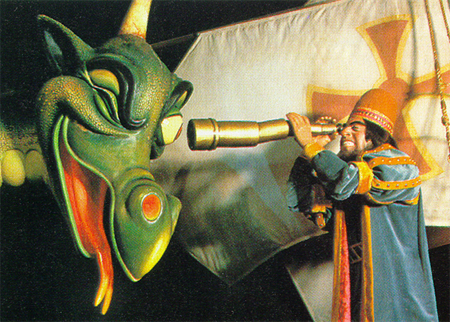 Six years later Disney released "Pirates of the Caribbean: Curse of the Black Pearl", a big screen action adventure movie with very loose ties back to the original attraction. The movie starred Johnny Depp and was a massive hit, so big in fact that Disney decided to alter the theme park attractions once again. This time the stated intent was not to sanitize the more lewd aspects pirate life but rather to inject elements of the film series into the attraction that inspired it. Nonetheless it gave Disney another crack the more suggestive parts of the ride.
In 2006 a new version of the attraction debuted. Disney decided to alter the chase scenes once again. Now in the Florida version two pirates inexplicably run in a circle each holding an end of a treasure chest. In Disneyland vignettes featured newly empowered women chasing pirates who have stolen pies (man those pirates really are nasty). No longer are the pirates trying to capture the women for sexual gratification, treasure or even to satisfy their hunger. Now the women are the aggressors hunting down the befuddled and inept seaman.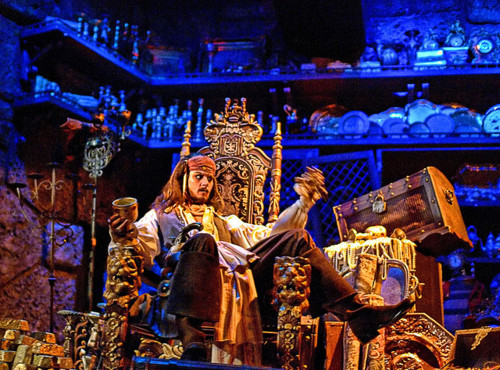 The pooped pirate remains but now Captain Jack Sparrow (from the films) peers from the same barrel that once hid the frightened girl. It appears as though Jack is looking over the treasure map the pooped pirate clutches. The plot of the attraction has been shifted, Pirates are now in search of Jack Sparrow and trying to beat him to the treasure, the town and its inhabitants are inconsequential. Additional figures of Captain Jack and his nemesis Captain Barbossa were added as well. Even music lifted from the movies found it's way into the attraction. Most of the changes made in 1997 were removed including several of the World of Motion figures and the overall "Pirates are hungry" motif. Now the attraction that inspired the films had been consumed by them. Pirates of the Caribbean had been turned into a promotional synergistic corporate shill.
For thirty years Pirates of the Caribbean stood virtually untouched, then within a decade nearly every scene had been alltered in one way or another. Additional minor changes continue today (in order to insert more elements from the movies) with more inevitably to come as the film franchise marches on. Somehow through all of this the auction scene that in many ways is the most offensive of them all remains intact.
Pirates of the Caribbean is still an awesome ride but it is a ride that now has a different tone, a different plot and a different intent from the original incarnation. It is not so much about whether it is a "good" or "bad" ride but rather about what happens when a truly beloved experience is altered (and many would argue unnecessarily so). Perhaps they had no choice? Perhaps times have changed? But Disney messed around with the crown jewel in their collection and because of that it earns the number one spot on our list.
Did we miss anything? Are you surprised? Do you agree or disagree?
Let us know and lets hope that there are precious few controversial surprises to come!